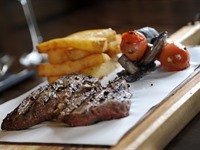 Your Dining Experience
Whether you are celebrating or fancy a night off cooking, at the Red Lion you will enjoy a delightful dining experience.
Our Head Chef, Sam Harmes, is passionate about creating classic dishes with a modern twist.
We update our menu seasonally, ensuring you eat the freshest ingredients.
In addition to the menu below, we offer daily specials. Yummy!
We are open for breakfast, lunch and dinner so whatever you fancy, we've got it covered!

Reservations required for parties of 6 or more.
To book a table, please call 01223 832 047.